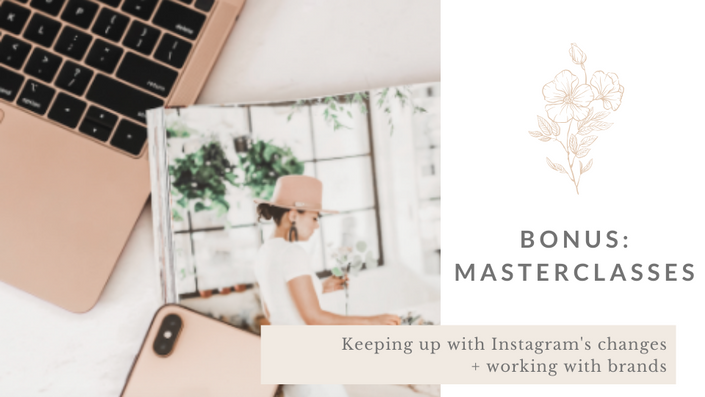 BONUS Masterclasses
Accelerate your impact, influence, and income through Instagram!
EXPERIENCED A DROP IN ENGAGEMENT RECENTLY?
Let me start by saying this: you're not alone!
Instagram can be tough, and it surely doesn't help that there are constant rumours going around about things like the most recent algorithm changes and why it's becoming harder and harder to get seen by your own followers.
How would it feel to stop wasting time worrying about those rumours and instead getting actual results like:
✓ Attracting REAL followers who stick around instead of just people who follow to then unfollow you 2 days later?
✓ Doubling your engagement and using your posts as a way to creating authentic connections with your ideal followers and clients?
✓ Monetizing your account - whether that's by attracting potential clients or brands you'd love to work with?
THE GOOD NEWS IS: YOU TOTALLY CAN!
I'VE COMPILED MY MOST POPULAR MASTERCLASSES FOR YOU, SO THAT YOU CAN GET THE LOWDOWN OF WHAT'S WORKING AND WHAT ISN'T - AND START SEEING MAJOR RESULTS WITHIN THE NEXT 30 DAYS.
INTRODUCING...
THE INSTAGRAM MASTERCLASS COLLECTION:
GROW YOUR IMPACT, INFLUENCE, AND INCOME.
YOU'LL GET INSTANT ACCESS TO THE FOLLOWING MASTERCLASSES:

✓ Keeping up with Instagram: What's working NOW (and what isn't):
✓ Instagram Hashtags: How many #s should you be using per post? Where should you post your #s: captions vs. comments?
✓ The Business Profile: when is the right time to make the switch - if ever?!
✓ The Most Recent Instagram Features: hot or not?
✓ How to grow your Instagram following, increase your engagement, and create a buzz around your account without spending all day on the app.
✓ My top 2 strategies to growing your tribe while leveraging off other accounts: grow faster by getting introduced to their followers!
✓ 5 FREE strategies to getting more paying clients through Instagram
This is what Jo (@josfoodsthatfit) recently shared with me:
"This is what happened to my Instagram followers after I took your course. All organically obviously. I implemented all your recommendations!"
BONUS INFLUENCER TRAININGS - HOW TO WORK WITH BRANDS AND GET PAID TO POST:
✓ How to attract brands you want to work with and calculate the value of your posts so you know how much you can charge.
✓ Product exchange vs. payment: Can you ask for money even when you're just starting out and have a smaller following?
✓ The most common mistakes bloggers/influencers make when working with a brand and how to fix them.
✓ How to stand out from the crowd so your pitches are the ones that brands not only read, but take the time to respond and accept.
✓ How to land long term contracts that create a consistent income (instead of just one off posts in exchange for a free product...).
DO YOU WANT TO:
• Get more likes & more comments on your posts without worrying about whether you're breaking any "Insta rules"?
• Actively grow your following quickly by leveraging off other accounts' following?

• Learn how to get exposed to a much larger audience of the right people (your ideal followers) without spending all day on Instagram?

• Efficiently (and effectively) target your ideal clients or brands you want to work with in a non-spammy way?

• Put a system in place, a strategic approach, that will save you tons of time & save you from "Insta overwhelm"?
Your Instructor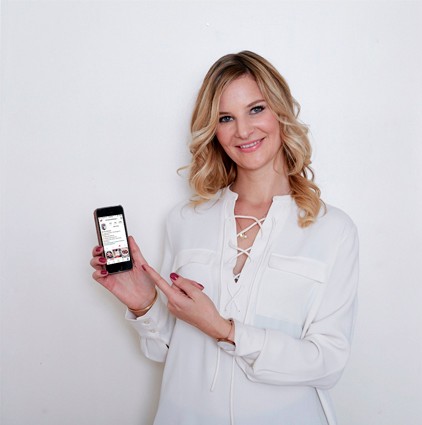 Hi, I'm Carla!
I grew my own Instagram account from 0 to over 20.000 highly engaged followers in less than 2 years. All organically.
As a busy entrepreneur myself, I know how difficult it can be to focus on your social media. Yet, we often don't have the funds to hire someone to take care of this department, or let alone work with an agency who, let's face it, often overcharge and under-deliver.
Over the past few years I have worked with many start ups in the food industry and have developed effective strategies and time-saving systems to help them successfully grow their businesses through online marketing.
That's exactly why I want to help people just like YOU apply the exact strategies I've developed and perfected over the past few years, so that you, too, can grow your online following and turn your passion into a profitable business.